April 2nd, 2012 Bob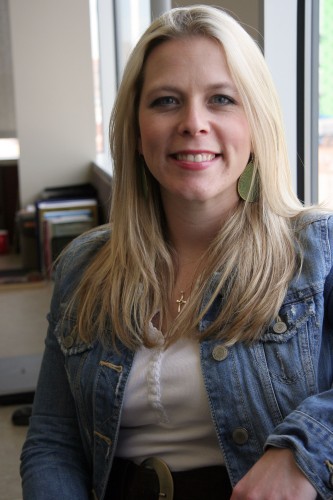 Tiffany Neill began her new appointment as SDE's State  Science Education Director on March 26, replacing Jody Bowie, who resigned in December to pursue a new opportunity at Southern Nazarene University.  Ms. Neill comes to the department from the K20 Center for Educational and Community Renewal at the University of Oklahoma, where she has served as a research associate and science specialist.  Prior to that she was a biology teacher at Vinita High School and an English and science teacher at Attucks Alternative Academy in Vinita.
Tiffany joins a reorganized curriculum department at SDE and works in the STEM office along with Courtney Lockridge, Director of Mathematics Education, Eric Hileman, Director, Instructional Technology/Telecommunications, Gary Hurst, Director of Professional Development Delivery Systems, Cheri Long, State Coordinator Agriculture in the Classroom, and Jeff Downs, the Executive Director for STEM at SDE.
Tiffany brings to the job her extensive experience as a curriculum developer while at the K20 Center.  The K20 position also afforded her the opportunity to make an impressive number of staff development presentations to audiences across the state and nation, making her well versed in the latest understandings of the Common Core, Interdisciplinary Teaching, STEM, Alternative Education, and Learning Cycle theory and practice.  She has been awarded the 2010 Best Practices Award from the Oklahoma Distance Learning Association, Is a teacher Consultant for the Oklahoma Association of Geographic Educators, and is the Chairperson for the upcoming 2013 Women of Science Conference.
Tiffany is a member of the National Science Teachers Association, The National Association of Biology Teachers, the National Science Education Leadership Association, School Mathematics and Science, the Council of State Science Supervisors, and the Oklahoma Science Teachers Association, where she now occupies an ex-officio position of the Board of Directors.