With the UV Index on the rise, it's time to remind your students to Slip! Slop! Slap! and Wrap!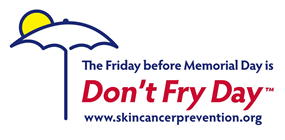 In our effort to raise awareness about a health issue that is largely preventable and too often ignored – skin cancer, EPA encourages you to promote sun safety before the second annual Don't Fry Day on the Friday before Memorial Day (May 28, 2010). As millions of us prepare to enjoy the great outdoors this Memorial Day weekend, EPA and the National Council on Skin Cancer Prevention are reminding Americans to practice sun-safe behaviors. We need your help; go online and pledge to incorporate sun safety into your spring and summer activities.
Take the Pledge: www.epa.gov/sunwise/dfdpledge.html
Participating classrooms and informal education organizations will receive a Don't Fry Day poster and a set of sun safety stickers. The stickers feature SunWise animals showing children how to Slip! Slop! Slap! and Wrap! Additionally, you will be entered into a random drawing for a SunWise Prize Pack. The prize pack includes a set of UV-sensitive beads, a real-time UV monitor, UV-sensitive nail polish and other sun safety resources.
To learn more about Don't Fry Day, visit the National Council on Skin Cancer Prevention's Don't Fry Day resource page, www.skincancerprevention.org, where you can find background information, skin cancer statistics and facts, and public service announcements you can put in your school's newsletter or distribute electronically to parents.
Also be sure to stop by our home page at www.epa.gov/sunwise to see the new resources we've developed for you. You can take an online sun safety certification tutorial, find out how to enter the 2010 SunWise with SHADE Poster Contest (due April 7, 2010), or learn about our new UV Index Facebook app.
If you have any other questions, please visit the SunWise Web site at www.epa.gov/sunwise or email us at sunwise@epa.gov.